Malmø open, Polish Nationals og Thai Kamp
Last weekends results from Malmø International Open
Last weekend Arte Suave had 12 competitors at Malmø International Open.
The athletes brought home 8 gold medals, 2 silver medals and 2 bronze medals in total.
Everyone had some good performances, one among them was Marcus Rachmanski who had a really good run in his weight class, where he had four fights. Marcus submitted his first opponent with a footlock in convincing fashion after only 2 minutes and without having a point scored on him. In his second fight he quickly set up an armbar from guard and submitted his opponent. In his third match he submitted his opponent with an armbar as well, out of a scramble.
In the final match he met a strong opponent, who would go on to win a different weight class that day in the middleweight category. Marcus pulled guard and with a berimbolo attempt managed to put his opponent to the ground, which in the end earned him the victory, taking home the gold for the blue belt lightweight class. 
Another great performance was Villum who competed in both gi and no-gi.
In the gi Villum won his first fight by setting up a reverse triangle and finishing from there with an armbar. In his second and final match he won by a loop choke earning him the gold medal.
In the no-gi bracket Villum unfortunately lost his first match by submission. Coming back from this loss he won his second match decisively with a rear naked choke. In his third match, he had a rematch with his first opponent, this time convincingly winning with a 15-3 point lead, with a lot of berimbolos, thus earning him double gold for the day.
All in all a great weekend with some really good performances by all. Big congratulations to all who podiumed and well done by all of you!

Here are all the results from those who got medals from the day:

Male Gi / White / Adult / -100,5 kg (Super heavy
🥉 3 James WilsonMale Gi / Blue / Adult / -76 kg (Light)
🥇 1 Marcus RachmanskiMale No-Gi / White / Adult / -97,5 kg (Super heavy)
🥇 1 frederik pugholm
🥈 2 James WilsonMale No-Gi / Blue / Adult / -85,5 kg (Medium heavy)
🥇 1 Nicklas MathiesenFemale Gi / Purple / Adult / -64 kg (Light)
🥇 1 Alberte OstermannJuvenile Boys Gi / White / Juvenile 2 / -64,0 kg (Feather)
🥇 1 Villum ValstenJuvenile Boys No-Gi / White / Juvenile 2 / -66,5 kg (Light)
🥇 1 Villum ValstenGirls Gi / Yellow & Orange / Teen I (13yrs) / Above 65,0 kg
🥇 1 Signe Abel KalmarGirls No-Gi / Yellow & Orange / Teen III (15yrs) / -65,0 kg
🥇 1 Signe Abel KalmarMale Absolute No-Gi / Blue / Adult / +73.5 kg
🥉 3 Nicklas MathiesenMale Black Belt Gi / Black / Master 1 (30+) / +100,5 kg (Ultra heavy)
🥈 2 Marcus Buur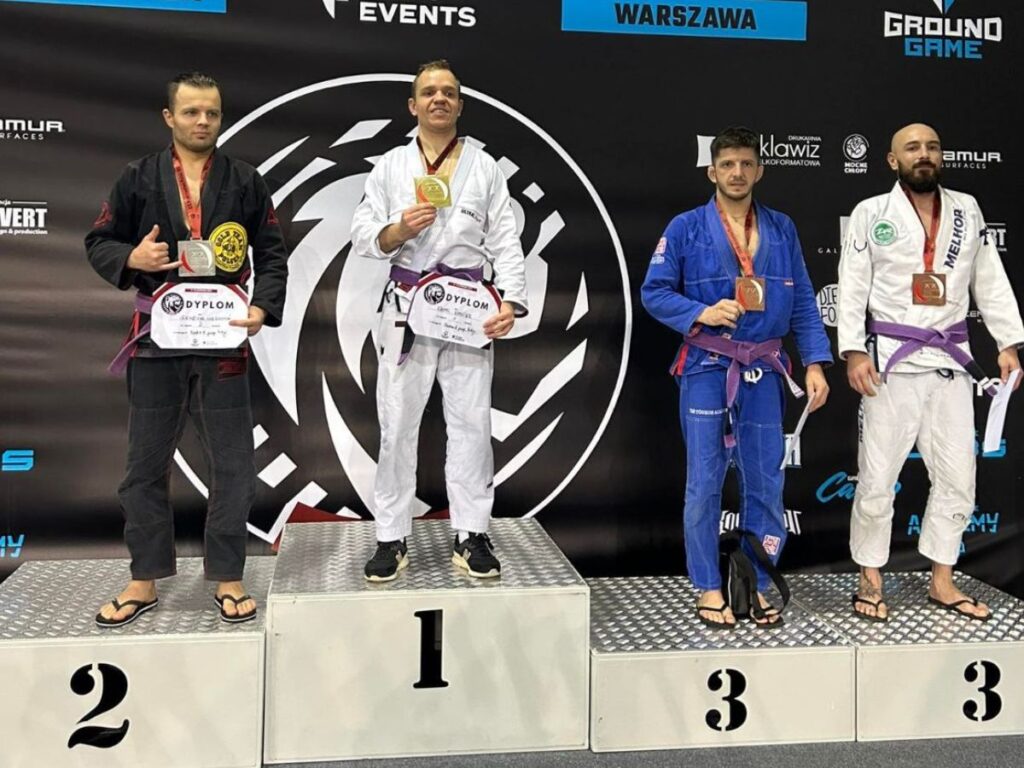 Results from Polish NationalsLast weekend we had three competitors, Aleksandra Morańda, Dariusz Kowalewski and Kamil Kmiotek going to Poland to compete in the BJJ Polish Nationals. The Polish Nationals are a very competitive tournament, as the Polish jiu-Jitsu scene is arguably one of the strongest in Europe. This year the tournament had a record number of 2361 registrations!
Kamil had 5 fights in total, competing both in his own category of the masters 1 division as well as the adult division with the young lions.
In the masters category his first match was a walkover, which however is not always an advantage. This is because it is often the first match that is the hardest due to the nerves, and you will be facing an opponent who won their first match, having the psychological edge. However Kamil dominated his opponent in his first match with a 14 point against 2 points for his opponent. In the second and final match he met a very strong opponent who had won his previous two matches by submission.
Kamil however won this match as well in convincing fashion, once again with a 14 point lead, without having a single point scored on him and thus securing the gold.
In the adult category he once again had a walkover in the first match. In the second and third match he secured point victories, placing him in the final against a talented opponent, ten years younger than Kamil. Unfortunately Kamil was not able to win this fight, and settled for the silver medal.
Aleksandra's first match was a walkover, and she had 3 matches in total. She faced strong opposition but managed to win all her matches thus securing the gold medal!
Dariusz Kowalewski had a walkover in his first round, and had a close match with and opponent, losing by advantage points, which still secured him a spot on the podium for the bronze medal.
Well done to all of you and congratulations on the results!

Here are all the results from those who got medals from the day:
 Women / Blue / Adult / -69 kg.
🥇 1 Aleksandra MorańdaMen / / Blue / Masters 2 / -70 kg
🥉 3 Dariusz KowalewskiMen / Purple / Adult / -70 kg
🥈 2 Kamil KmiotekMen / Purple / Master 1 / -70 kg
🥇 1 Kamil Kmiotek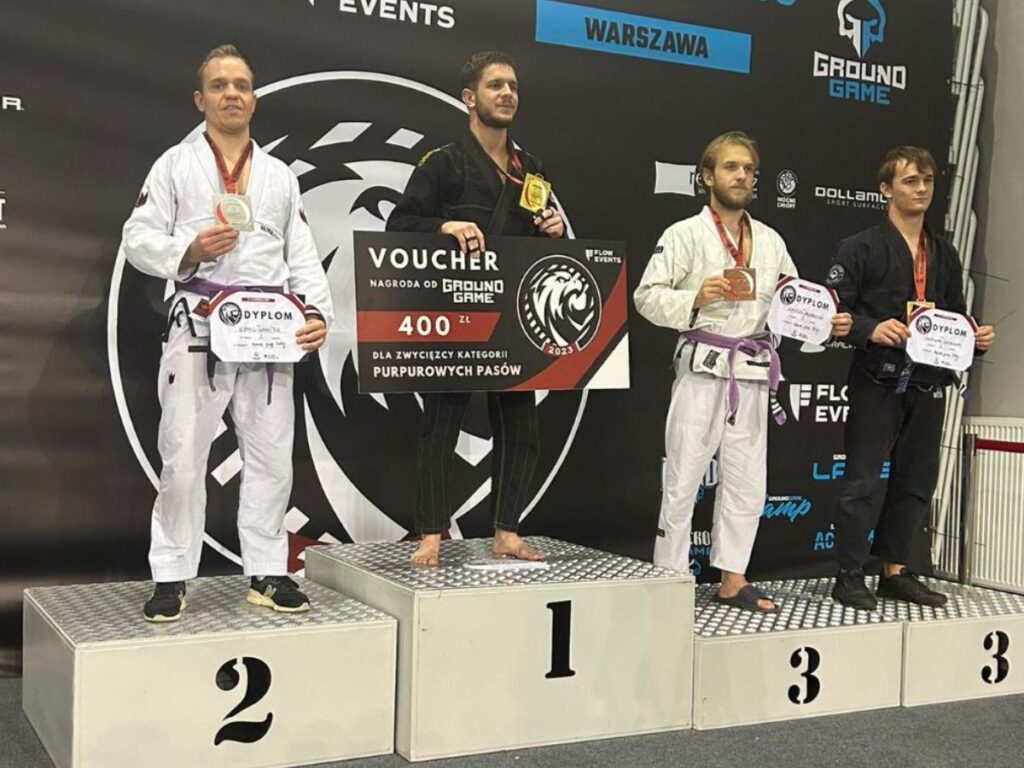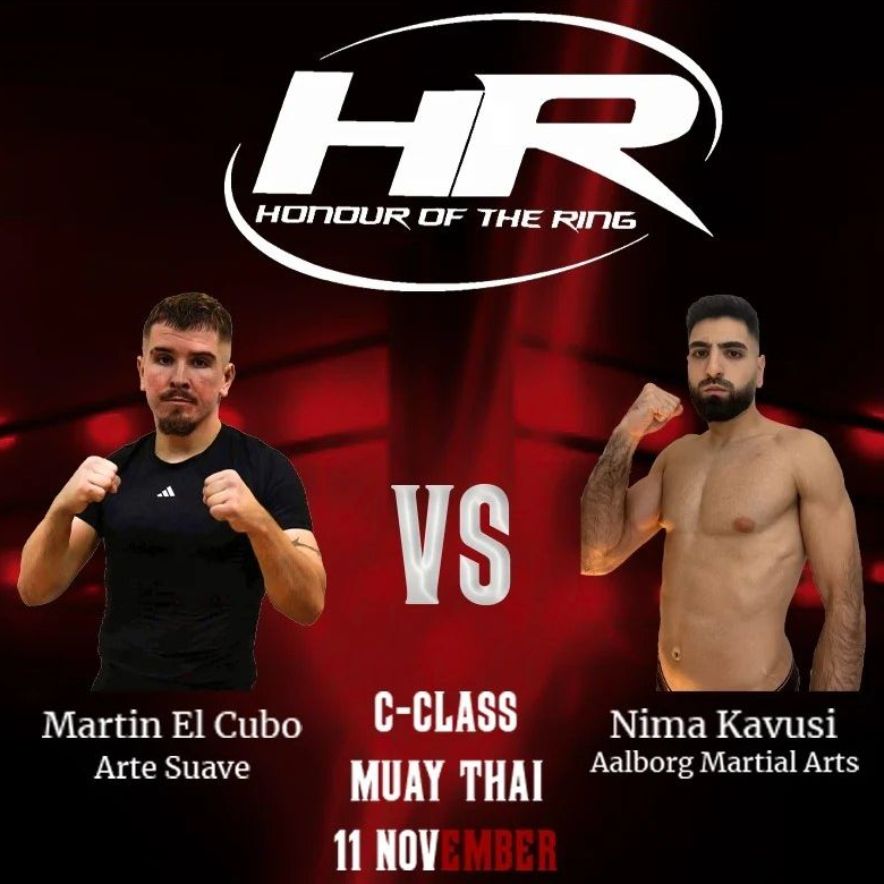 Results from Honour of the Ring, ÅrhusLast weekend Martin El Cubo fought in the muay thai event in Århus called Honour of the Ring. He faced a skilled fighter from Aalborg who engaged him in the clinch and dominated him there. He struggled to land clean hits on the opponent, which resulted in the opponent scoring some easy points. Martin applied good pressure from start to finish, but it wasn't enough to bring the victory home.
All in all it was a good experience for Martin which he can use in his future endeavors, as he is planning on competing in MMA at some point.
Well done to you and keep pushing forward!